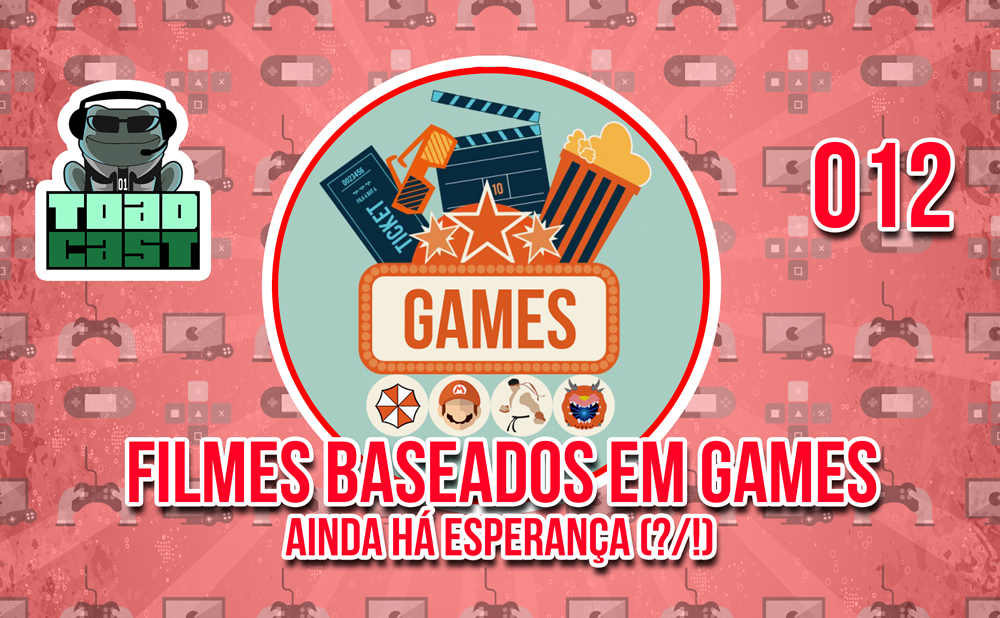 Oi pessoal! Está no ar mais um ToadCast! No episódio de hoje vamos falar sobre o presente, passado e possível futuro dos filmes baseados em videogame.
Participantes:
Mande seu email para: toadcast@toad.com.br
Assine o ToadCast:
Tópicos Comentados:
Nintendo's upcoming NX will be a portable, handheld console with detachable controllers, a number of sources have confirmed to Eurogamer. On the move, NX will function as a high-powered handheld console with its own display. So far so normal – but here's the twist: we've heard the screen is bookended by two controller sections on either side, which can be attached or detached as required.
NX é um portátil com controles destacáveis
Segundo report da Eurogamer, o próximo console Nintendo de codinome NX será um portátil. O videogame terá uma tela própria e terá controles destacaveis em suas duas extremidades. Será possível ainda conecta-lo à sua TV através de uma dockstation. O cartucho será a mídia utilizada.
O portátil teria ainda um processador Tegra X1 da Nvidia.
---
An update (version 0.31.0) for Pokémon Go released last night, bringing a host of improvements, while also adding some new problems. The three-step glitch that many players noted has been fixed by removing footprints entirely. Unfortunately, that now means finding Pokémon is even more based on luck than actual tracking.
Update de Pokémon Go remove funcionalidades e irrita fãs
Uma atualização liberada pela Niantic no último domingo trouxe melhoras e pioras para o jogo. As pegadas dos Pokémons foram removidas, que facilitavam a busca e captura dos bichinhos. O modo de poupar bateria foi removido e agora os avatares podem ser customizados a qualquer momento. A empresa também tirou do ar apps de terceiros como Pokevision que auxiliavam os jogadores a localizar pokémons.
Com isso, vários fãs começaram a solicitar reembolso de compras dentro do jogo e desqualificar o mesmo nas Play Store e Apple Store.
---
Legendary Entertainment and Square Enix have partnered to create a live-action Life Is Strange TV show for digital streaming services. The show will be produced in conjunction with dj2 Entertainment, which has also had a hand in the upcoming Sonic the Hedgehog movie.
Life is Strange vai virar série de tv
A Legendary Entertainment em parceria com a Square Enix, irá criar uma série de tv baseado no jogo episódico. Ainda não há informações de como será filmada a série, uma vez que a personagem Max pode utilizar seus poderes para desfazer decisões tomadas e então seguir por outro caminho. Ainda não há data definida para estréia.
---
Sony Pictures has reportedly named a new writer to tackle Nathan Drake's adventures. Joe Carnahan appears to be handling the script responsibilities for the upcoming Uncharted film. Carnahan won't be behind the camera. He's about to tackle Bad Boys 3 with Will Smith and Martin Lawrence.
Diretor de Bad Boys 3 assume roteiro do filme de Uncharted
Após passar por inúmeras revisões, Joe Carnahan, assumirá o roteiro de Uncharted. Como diretor ele é conhecido pelos filmes Esquadrão Classe A e NARC. Com isso, a Sony atualizou a estréia do filme para 2017, anteriormente marcada para esse ano.
---
Bilheterias Comentadas:
| | | | |
| --- | --- | --- | --- |
| Filme | Lançamento | Bilheteria | Rotten |
| Warcraft[93] | June 10, 2016[94] | $433,025,655[95] | 29%[96] |
| The Angry Birds Movie | May 20, 2016 | $344,413,284[90] | 43%[91] |
| Prince of Persia: The Sands of Time | May 28, 2010 | $336,365,676[69] | 36%[70] |
| Resident Evil: Afterlife | September 10, 2010 | $296,221,663[72] | 23%[73] |
| Lara Croft: Tomb Raider | June 15, 2001 | $274,703,340[16] | 19%[17] |
| Resident Evil: Retribution | September 14, 2012 | $240,159,255[75] | 30%[76] |
| Need for Speed | March 14, 2014 | $203,277,636[81] | 23%[82] |
| Lara Croft Tomb Raider: The Cradle of Life | July 25, 2003 | $156,505,388[25] | 24%[26] |
| Resident Evil: Extinction | September 21, 2007 | $147,717,833[52] | 22%[53] |
| Resident Evil: Apocalypse | September 10, 2004 | $129,394,835[31] | 21%[32] |
| Mortal Kombat | August 18, 1995 | $122,195,920[7] | 33%[8] |
| Resident Evil | March 15, 2002 | $102,441,078[22] | 33%[23] |
| Hitman | November 21, 2007 | $99,965,792[55] | 14%[56] |
| Street Fighter | December 23, 1994 | $99,423,521[5] | 12%[6] |
| Silent Hill | April 21, 2006 | $97,607,453[43] | 29%[44] |
| Max Payne | October 17, 2008 | $85,416,905[63] | 16%[64] |
| Final Fantasy: The Spirits Within | July 11, 2001 | $85,131,830[19] | 44%[20] |
---
Filmes antigos comentados:
Super Mario Bros
Street Fighter
Mortal Kombat
Lara Croft: Tomb Raider
Resident Evil
Prince of Persia The Sands of Time
---
Jogos que devem virar filme:
Angry Birds
Assassin's Creed
Asteroids
BioShock
Borderlands
Call of Duty Cinematic Universe
Deus Ex
Devil May Cry
The Division
God of War
Halo
Heavy Rain
Kane & Lynch
The Last of Us
Mass Effect
Metal Gear Solid
Minecraft
Rampage
Resident Evil: The Final Chapter (tomara!)
Ranched and Clank
Sonic
Splinter Cell
Tetris
Tomb Raider
Uncharted
Watch Dogs
The Witcher
---
Arte da Capa