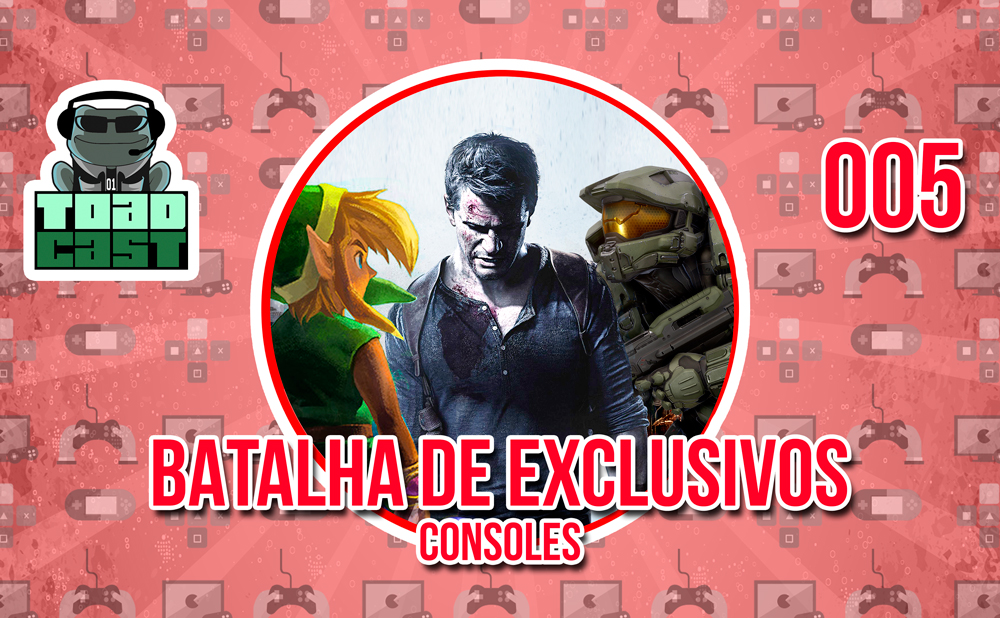 Oi pessoal! Está no ar mais um ToadCast! No programa de hoje, vamos colocar à prova os melhores exclusivos do PS4, Wii U e Xbox One numa arena e ver quem sai vivo dessa batalha.
Participantes:
Ouvidoria ToadCast:
Mande seu email para: toadcast@toad.com.br
Assine o ToadCast:
Batalhas propostas:
HALO 5 VS KILLZONE SHADOWFALL VS METROID PRIME
FORZA HORIZON 2 VS DRIVECLUB VS MARIO KART 8
KILLER INSTINCT VS STREET FIGHTER V VS SUPER SMASH BROS
SUNSET OVERDRIVE VS BLOODBORNE VS BAYONETTA 2
QUANTUM BREAK VS UNCHARTED 4 VS ZELDA: WIND WAKER
Sua vez de votar! Quem vence essa batalha?
FPS:
Corrida:
Luta:
Ação:
Aventura/Story-wise:
---
Tópicos Comentados:
DLC is also Play Anywhere
A Microsoft divulgou a lista de todos os primeiros jogos que farão parte do programa Xbox Play Anywhere, onde você vai poder jogar tanto no seu PC quando no Xbox One. São eles:
Gears of War 4
Forza Horizon 3
ReCore
Sea of Thieves
Halo Wars 2
Scalebound
Killer Instinct Season 3
State of Decay 2
Ark: Survival Evolved
Cuphead
We Happy Few
Crackdown 3
---
Hideki Kamiya wants to bring his witch back
Bayonetta 3 e Okami 2 podem acontecer sim, senhor! Durante uma entrevista o criador Hideki Kamiya, disse que tem pensado bastante sobre o assunto e tem escrito algo sobre os possíveis novos jogos, porém não há nada concreto, mas se a oportunidade aparecer seria muito legal.
---
AR game comes to phones sometime next month
Pokémon Go, o jogo dos monstrinhos, para celular chega em Julho para iOS e Android. Uma pulseira companion vai estar disponível por 35 dólares para ajudar na sua aventura. No jogo você vai poder capturar pokémons baseado em sua localização GPS e realizar batalhas com outros treinadores.
---
Steam's Summer Sale will begin next week, according to … PayPal? That's right, last month a Reddit user leaked the June 23 start date for Steam's annual summer sale and today, PayPal, which has…
A conta do Paypal divulgou que a Steam Summer Sale inicia no dia 23 de Junho, data da publicação desse delicioso podcast. As vendas de jogos em promoção vai até o dia 4 de Julho.
---
And players may not have to wait too long to see it. Just as Nintendo is challenging the conventions of The Legend of Zelda with Breath of the Wild, the company is similarly looking to shake up what players have come to expect with Mario.
Um novo tipo de Mario está no horizonte.
"Estamos sempre nos desafiando a criar algo novo, então acredito que vocês verão um novo tipo de Mario em um ano ou dois. Talvez na próxima E3 possamos compartilhar algo." – Disse Shigeru Miyamoto em declaração a IGN
---
ToadCast 004: Tudo o que rolou na E3 2016!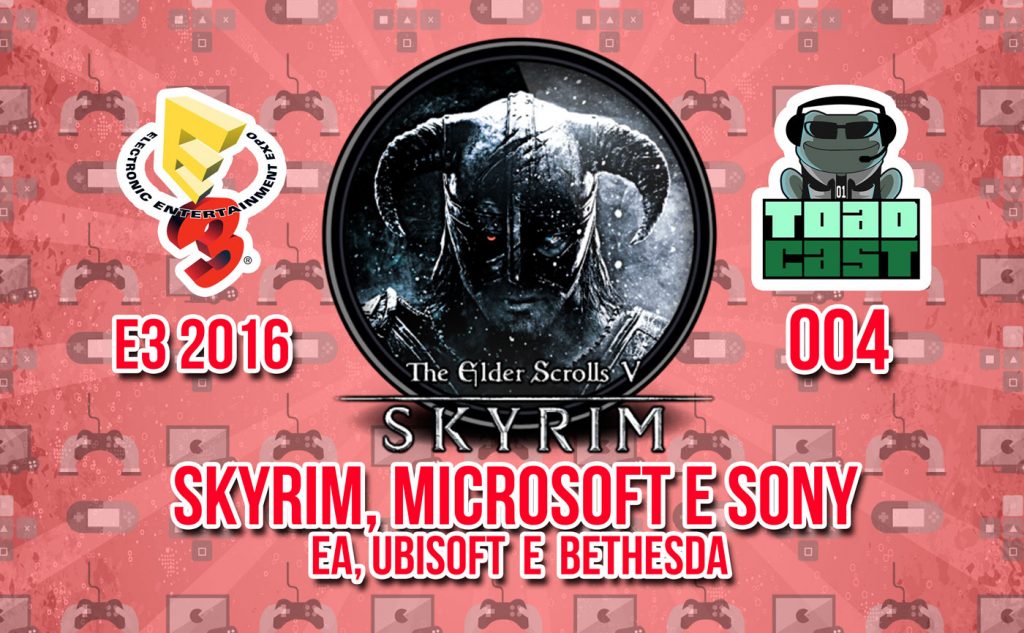 ---
Arte da Capa